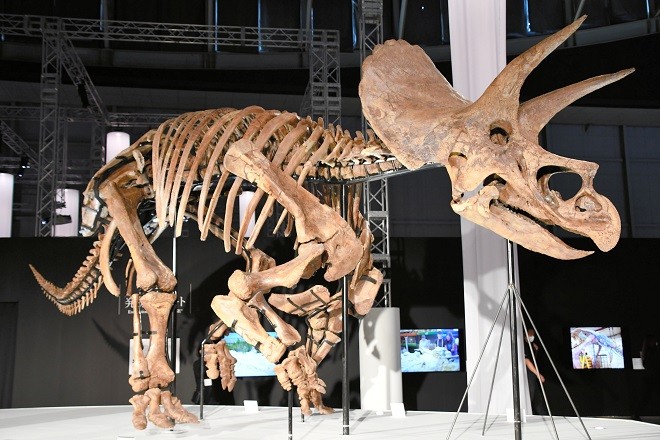 Triceratops Fossil Star at Yokohama Dinosaur Exhibit
YOKOHAMA – A well-preserved Triceratops fossil, and other powerful examples from the dinosaur age never seen in Japan before, are now on display at a special exhibition in the city's Nishi district.
Hosted by Sony Corp. and sponsored by The Asahi Shimbun and other organizations, "DinoScience: The Dinosaurs of Laramidia" also features CG images that exquisitely recreate the shapes of dinosaurs and the way massive creatures roam.
The exhibition at the Pacifico Yokohama Convention Center runs until September 12.
The Lane the Triceratops skeleton is on loan from the Houston Museum of Natural Science and is on display for the first time in Japan. It is seven meters long and three meters high.
Other notable exhibits include a Gorgosaurus discovered with a trace of brain tumor, a young triceratops and a young tyrannosaurus, as well as many other reconstructed complete skeletons. Some of them have never been shown in Japan before.
"You can have high hopes (for the exhibit) because I'm sure you'll experience a lot more than conventional exhibits," said Masashi Tanaka, aka Mr. Dinosaur, who served as the planner and supervisor of the event.
Admission is 2,800 yen ($ 25) for adults.
Advance reservations are required for weekends and holidays when ticket prices are higher, eg 3,000 yen for adults.
For more information, visit the official website at (https://dino-science.com/fr/).